Nach einem letzten Frühstück bei Patrick Dugans, haben wir uns am Samstag, den 29 Juni nach Colorado Springs aufgemacht…
Vorher musste ich mich schon von Sara und Brady verabschieden. (Und liebe Lilli, leider konnte ich Dir Brady nicht mitbringen).
Nachdem wir gegen Abend endlich da waren, haben wir außer einem super leckeren Abendessen bei Huhot, einem mongolischen Restaurant und einer Runde Phase 10 leider nicht mehr so viel geschafft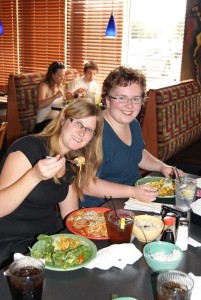 Am nächsten Morgen wurde erstmal ausgeschlafen, bevor wir uns zum Pikes Peak aufgemacht haben. Beim letzten Mal mit meinem Vater haben wir es leider nur halb hoch geschafft… Doch auch dieses Mal sollten wir kein Glück haben… Es war das jährliche Race den Berg hinauf… Was für ein Glück.
Naja dann sind wir anstatt den 4000m Berg eben nach Gold Rush Ton Criple Creek gefahren, eine Westernstadt mit Casinos. Und da das Glück wenigstens einmal auf unserer Seite war, kamen wir gerade rechtzeitig zum jährlichen Eselfest… also gab es ein Eselrennen, viel zu Essen und zu kaufen…
Abends war ich dann noch mit meiner Gastfamilie im deutschen Restaurant Edelweiß essen. Da hab ich mir erstmal die Käsespätzle gegönnt…
Montagmorgen haben wir es dann noch einmal mit dem Pikespeak versucht… Dieses Mal hatten wir Glück… Allerdings war alles nebelig und wir sind in einen Eis und Hagelschauer auf der Spitze geraten und konnten nichts sehen…
FAZIT: Ein viertes Mal probier ich es nicht…
Dann kam der wahrscheinlich schwerste Schritt auf meinem bisherigen Trip…. Ich musste goodbye sagen zu meiner Gastfamilie… Was sagt man denn zu seiner zweiten Familie, bei der man ein Jahr zu Hause war, die besten Erfahrungen und Trips erlebt hat…. Ich hab es dann mit Danke probiert und das Weinen angefangen… DANKE…!!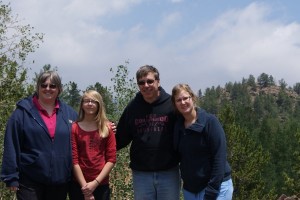 Im Anschluss bin ich in die Coors Brauerei gefahren, wo ich dann ein Sample zu viel getrunken habe…
Den letzten Tag in Colorado wurde dann gewaschen, geputzt und gepackt…. Entspannt wurde dann noch im Garden of the Gods und in Manitou Springs, wo ich schon einige Male zuvor war…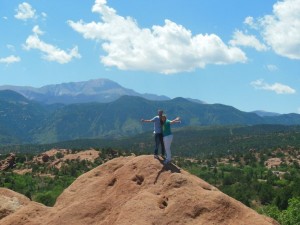 Wahnsinn, das der erste Schritt Roadtrip schon wieder zu Ende ist….
FAZIT:
Ich vermisse COLORADO
Ich vermisse MEINE GASTFAMILIE